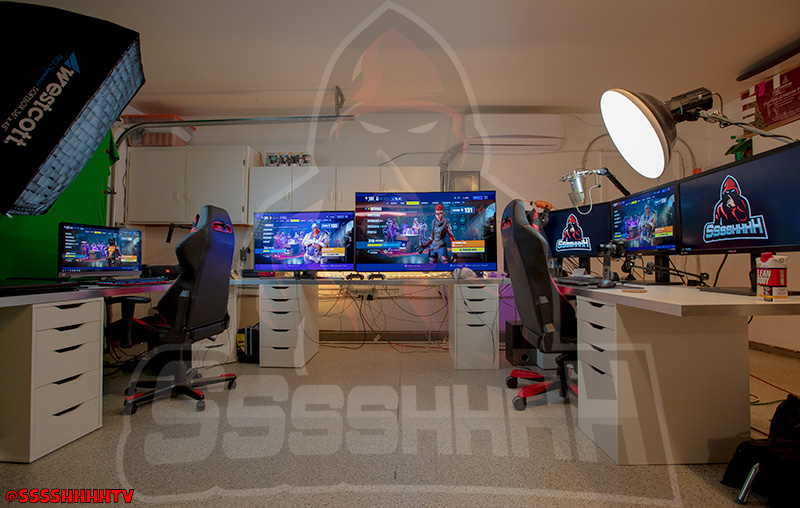 Our 4 player co-op gaming setup. PCs and consoles with fully customizable colored lighting.
Gaming/PC Setup - Sssshhhh.Tv
Welcome to our four player co-op gaming/PC setup that we use here at Sssshhhh.tv to create our content. We will discuss everything in our setup. From the basics to the technical details. I hope to make it as informative as I can and will add to it over time as it continues to grow.
Setups range from a few bucks to thousands of dollars. Doing daily tasks such as gaming, coding, video editing/processing/uploading, and/or streaming will require you to have a high powered PC to do most of the heavy lifting for you. Although it is not required.
A lot of times most people only have access to a console and that's all you need to get started playing. The major consoles these days can stream as long as you have internet. Getting people to watch you though is another story.
You can start just about anywhere when creating your own setup. From your own room, to your closet, to a main room or even it's own dedicated gaming space. There are endless accessories/items and upgrades to add to your growing collections at every turn. At their most basic though, all you need is a game to play.
If you ever have any questions you can hit me up on twitter @SssshhhhTv. Let's start with the PC and the housing of the computer first.
Computer Case
The Computer Case is where everything is stored that makes up your computer. It is like the computer's body if it were a person. At their most basic, they can be just a small plastic box of varying designs. Beyond that they can be customized and stylized to be as much of a fashion statement as you want them to be. Ranging anywhere from a few bucks to several hundred dollars, if not more.
Computer cases do come in different sizes and how much space you need is dependant upon what you plan on putting inside of it. When money doesn't matter, I always recommend going as large as you can go, especially if you're going with a multiple graphic card setup.
Worst case scenario you'll enjoy the extra elbow room, especially if you're building the computer yourself. If money matters and is tight, only go with what you need. In many cases a medium size case will work.
| | |
| --- | --- |
| Case #1: | Corsair Graphite Series 760T Full Tower Gaming Case |
| Case #2: | Corsair 400c Mid-Tower |
Motherboard
If the Computer Case is the body, then the Motherboard is the backbone of your computer. This is where everything gets plugged into. It is the biggest single part of your computer and one of the most important.
They come with a BIOS, which is a light software component that holds your hardware settings. The manufacturer can also use it to update the Motherboard in the future.
Deciding on the right Motherboard when you're buying a computer is crucial as it will determine your computer's capabilities and potential ceiling moving forward.
| | |
| --- | --- |
| Motherboard #1: | MSI MPG Z390 Gaming Pro Carbon |
| Motherboard #2: | MSI MPG Z390 Gaming Plus LGA1151 |
Power Supply Unit
The Power Supply or PSU, true to name, supplies power to everything within your computer. It plugs into a power outlet to get it's power. It's the heart of the computer.
It is important to get a Power Supply that provides enough power to fully power all of your components. Each one of your components will have it's own power requirements. Failing to provide adequate power, will cause failure to perform.
| | |
| --- | --- |
| PSU #1: | EVGA SuperNova 1300W |
| PSU #2: | EVGA SuperNova 1000W |
CPU - Central Processing Unit
The CPU or Central Processing Unit or Processor for short is basically the brain of your computer. It does all the thinking or "processing" within the machine. There are two main brands you will find yourself deciding between when picking a CPU. Intel and AMD.
They've very competitive and are always pushing the boundaries of what processors can do. Over the years I've owned quality products made by both companies but for right now I'm using an Intel i9 chip in one machine and an i5 in the other.
| | |
| --- | --- |
| CPU #1: | Intel i9 9900k |
| CPU #2: | Intel i5 9600k |
The cooling system helps keep everything cool and from overheating. Computer parts tend to run very, very hot. People can get very elaborate with these. Here are the ones we use.
| | |
| --- | --- |
| CPU Cooler #1: | |
| CPU Cooler #2: | Corsair H60 Liquid CPU Cooler |
RAM - Memory
The RAM is the computer's memory. It holds all the instructions needed to be executed by the CPU or the brain of the computer. They are stored directly on the Motherboard. Data is sent from the Hard Drive to the RAM to then be accessed by the CPU. The more memory you have, the more data it can hold and the faster your PC will perform.
There's a lot of really great brands on the market from Kingston, to Corsair, to HyperX, to GSKILL and more. What type of RAM and how many megahertz you need will depend on what kind of CPU and Motherboard you decide to go with. Always check factory manufacturer recommendations.
| | |
| --- | --- |
| RAM #1: | GSKILL Ripjaws V DDR4-3200 Memory |
| RAM #2 | Corsair Vengeance LPX DDR4-3000 Memory |
Storage
Your computer storage devices are where all your information is held. There are several different types of storage devices and we will cover a few here. Speed and performance matter when your disk is reading and writing.
A hard disk is the most basic. It is a big mechanical disk that spins around. They can hold a lot of storage space but are slow.
A Solid State Drive or SSD is a step up from the hard disk in speed and size. It does not have a mechanical disk like the hard drive. Which causes it's speed & performance to improve. Typically at the cost of extra space.
The last is the NVMe SSD or Non-Volatile Memory express drive. It is the fastest of the three types but is also typically more expensive.
Then you have external hard drives. The kind that are not physically stored within your PC. They're great for storing extra data to free up space on your PC. I don't know if you can ever have enough.
| | |
| --- | --- |
| Storage #1: | 480 GB ADATA SU650 SSD |
| Storage #2: | 500 GB Samsung 970 EVO PLUS M.2 PCIe NVMe SSD |
| External Storage #1: | Western Digital 2TB SSD (Black) |
| External Storage #2: | Western Digital 2TB SSD (Blue) |
Graphics Cards
The Graphics Card, sometimes referred to as the Video Card or the GPU is the part of the computer that generates the images that you see on the screen.
This is one of the most important parts of your computer when it comes to gaming. If there is one piece of equipment not to skimp out on, it's this one. You can add more graphics cards to improve your performance, instead of relying on just one. Which will require a special SLI or Scalable Link Interface setup.
How to choose the best video card(s) for you is really beyond the scope of this page and requires a lot of information gathering. You should always do your research before buying. The graphics card industry is a rapidly growing industry. What is great today, may not the greatest anymore tomorrow. What you need for your system or game of choice is left up to it's specific requirements.
| | |
| --- | --- |
| Graphics Card PC #1: | Gigabyte GeForce RTX 2080 Ti |
| Graphics Card PC #2: | EVGA GeForce GTX 1080 FTW GAMING ACX 3.0 |
Monitors
| | |
| --- | --- |
| Monitors CPU #1: | Asus PB278Q 27" Monitor x 3 |
| Monitor CPU #2: | HP x2301 27" Monitor |
Keyboard & Mouse
| | |
| --- | --- |
| Keyboard: | Max Keyboard Nighthawk X7 |
| Mouse: | Logitech G502 x 2 |
Cameras/Mics
| | |
| --- | --- |
| Camera #1: | Panasonic GH4 DSLR Camera Body. |
| DSLR Connector: | Elgato Camlink 4k connector. |
| Camera #2: | Logitech Pro C920 Webcam |
| Microphone: | Blue Yeti |
Gaming Chairs
| | |
| --- | --- |
| Chair(s): | DX Racer Iron Series |
Capture Cards
| | |
| --- | --- |
| Capture Card (from Gaming PC): | Elgato Game Capture 4K60 Pro |
| Capture Card (from Console): | Elgato Game Capture HD60 Pro |
Gaming TVs
Headsets
| | |
| --- | --- |
| Headset #1: | Sennheiser 506080 GAME ONE Gaming Headset - Black |
| Headset #2: | Sennheiser HD 598 Over-Ear Headphones - Ivory |
| Headset #3: | ASTRO Gaming A40 TR Headset + MixAmp Pro TR for Xbox One |
| Headset #4: | HyperX Cloud Stinger Gaming Headset |
Lighting
| | |
| --- | --- |
| Key Light: | Mola Demi beauty dish. Powered by a Westcott Skylux light. |
| Fill Light: | Westcott Softbox. Powered by a Westcott Skylux light. |
| Trim Lights: | Philips Hue Lightstrips |